Corporate Social Responsibility
The Company continues to support the society, as well as the local communities in which it operates, through a series of actions and initiatives that contribute to social development and prosperity. Social awareness is not just a part of the Company's corporate strategy but is an important component of its corporate culture.
"Structures of Responsibility" Program
The Company has established a corporate responsibility program entitled "Structures of Responsibility", since 2016, a continuously evolving plan of social actions and interventions. The program aims to improve the infrastructure and operational upgrade of important social structures, using the experience and expertise of the Company's executives, with the aim of substantial social contribution to addressing key social problems, in cooperation with well-known bodies at national and local level.
The program has four main pillars of action, as presented in the adjacent chart: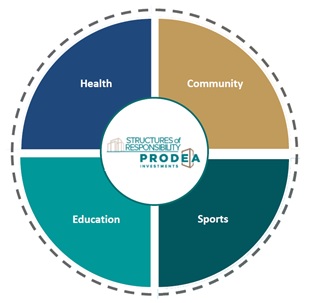 Some of our social actions can be found below: